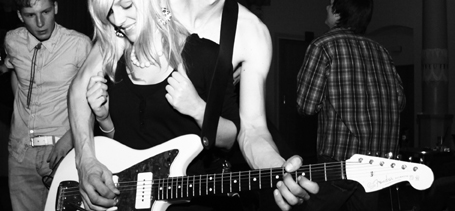 10 years ago in the City of Cologne, Germany, an Oregon small-time con man with an exorbitant talent to pick the guitar being the only thing that keeps him out of jail, runs into 2 Russian refugees with a degree in classical music and a heart of gold. Quickly, they discover their untamed love to adrenaline-driven and vodka-drenched rock'n roll and establish the JANCEE PORNICK CASINO. After 2000 shows in Europe and Russia they recently completed their latest output SOLO ADULTOS.
It is the 8th lp by legendary Russian-American rock makers JANCEE PORNICK CASINO named after their leader Jancee Warnick. After 3 years of secretive work in their private studio Jancee's girlfriend/business advisor was the first person to be exposed to the new material. Her spontaneous reaction was: 'Do you ever think about something other than sex?' Jancee did not have a good answer for that other than 'I dunno, man, kinda hard to live without it, don't you think?'
I start wondering at this point if I can get him to say anything worth writing down, as we sit down to talk about SOLO ADULTOS this afternoon. He shifts in his chair and smokes quietly. 'You know, I really honestly like the album and now it's all done and completed leaving with just some empty hollow feeling inside. But that'll go away once we hit the road again, which is tomorrow.' So I ask him what people can expect from his latest output other than a record about sex.
'There's not really a plan or concept to what I'm doing. The stuff kind of just spills out of me. Basically, I'm always trying to make the same record all over again, only better. Always the same stuff (*i.e. rock music inspired by REVEREND HORTON HEAT, 60's surf bands, BUDDY HOLLY, MOTÖRHEAD, JUNIOR BROWN all laced with a near fatal dose of Russian moonshine vodka).
We then smoke another cigarette and Jancee's mood slowly seems to lighten up a tad. I ask him, how everybody in the band is getting along after 15 years on the road. 'Oh man, dammit, I guess we are just like these old couples always arguing about some crazy stuff in public. No, it's going fine with the boys. Only we don't do that hard kind of drinking anymore like we used to. That's quite a new experience for us,' he laughs.
Then we agree that 4 pm is late enough in the day to open up a brew for oneself, so that's what we do and then he finally plays me the damn record.